When you think of front porch Fall decorating, what comes to mind? Maybe pumpkins, hay, scarecrows, or of course a Fall wreath for your front door! Sometimes you just want something different, something unique for your front door decor. Well if you have an old print, photo or framed piece of artwork you don't use or just don't have a place for anymore, then this is where the Fall plaid frame wreath comes in! Fall is officially here and it's time to get busy decorating the front door. Sometimes I think my favorite color is plaid, is that a thing? With its warm plaid colors, pretty florals, and pumpkins, this fall frame wreath is the perfect solution! Let's make this…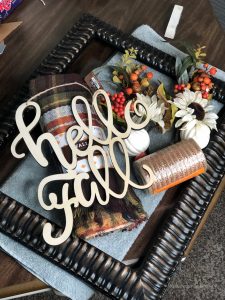 Supplies Needed
Old picture frame from artwork or print or photo of choice
Fall plaid throw, blanket or flannel material of choice
Wooden wording cutout
Few Fall floral picks
Mesh ribbon
Ribbon
Scissors
Acrylic Paint
Paintbrush
Hot glue gun
Floral wire
Step by Step Instructions for Wreath
Remove old picture and glass insert from frame, leaving only empty frame behind.
Paint your wooden cutout with white acrylic paint or your color of choice and let dry.
Secure floral picks together with floral wire.
Make your bow out of the mesh ribbon and secure with floral wire. See my EASY MESH BOW VIDEO TUTORIAL BELOW.
Secure picks and bow to your frame using the floral wire. Tuck stems towards the backside of the frame.
Thread your ribbon at the top through the frame opening, for hanging the wreath later. Secure with a drop of hot glue on the back.
Cut out your desired section of the throw to work with keeping in mind the direction of the plaid pattern.

Trim down the material to fit your frame. Make sure the material reaches all edges and can be pulled tight to fit without distorting your plaid pattern.




Hot glue your material onto the back side of your frame in sections, pulling taught as you go.



Hot glue your wooden cutout to the front of the wreath in the place you desire.
Hang wreath using the ribbon you placed at the top of the frame.
If you missed the live video tutorial, you can still see it below. It is in two parts, so be sure to catch it all!
VIDEO ONE LET'S GET STARTED
VIDEO TWO LET'S FINISH UP
VIOLA! A PICTURE PERFECT WREATH!
It's super easy to want things to be picture perfect in this life. The truth is, it's just not. In fact, we all are less than perfect. I love the reminder paraphrased here in John 8:7 "Whoever is perfect among you can be the first to judge." It's a verse referring to the story of a woman who screwed up royally and everyone was quick to condemn her, but Jesus offered her mercy. Thank goodness for His mercy in my life, too! His love is the only thing that is truly perfect. In what ways do you find yourself striving for perfection? Comment below.

Get it? I'm in love with this unique decor and fun twist on the traditional Fall wreath! It was so easy and fun to make that anyone can do this! Get creative, what old frames do you have laying around that could be re-purposed into a fun Fall craft? This project could even double as a cute addition to your seasonal gallery wall! Speaking of gallery walls, have you checked out the post that shares all the details on starting your very own gallery wall? If not, it's here Gallery Wall. I hope you'll check it out and come back to share yours!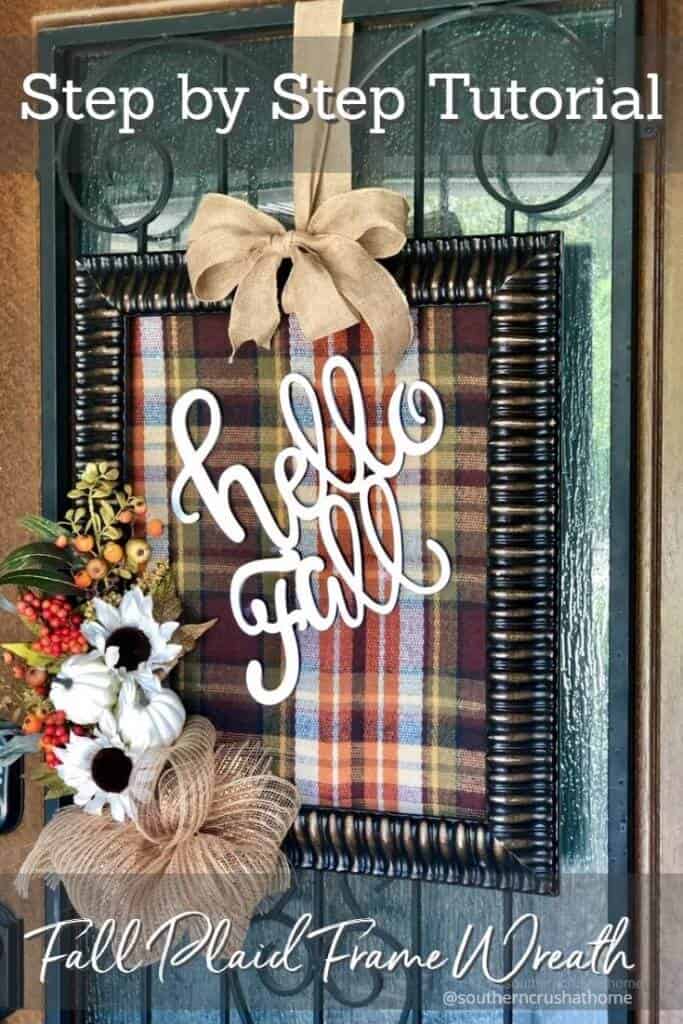 Y'ALL DON'T FORGET TO PIN THIS PROJECT FOR LATER!
If you loved this project, you need to be getting my emails, friend! Each week I send out a couple of emails that include updates, crafts, and decor inspiration. Be sure to get yourself signed up below. I can't wait to meet you!
>>>Leave your thoughts below in the comments please… BTW— Life is short—Enjoy the mess!
**P.S. Please join us over on our
Facebook Page
to see more fun projects "Live". Once you have finished YOUR FALL WREATH, please share it with our community on the page. It helps people so much when they see others being creative!