7 Best Business Coaching Services (for Creative Businesses)
Does your creative business consistently grow? If not, there's a good chance you're stuck in a rut. The good news is there is an easy solution to this problem. I've put together a convenient list of the best business coaching services for creative businesses like yours.
(All of the opinions in this blog post are my own. If you purchase anything from a link in this post I may receive a small commission. All of my opinions are from first-hand experience with the service that is shared here.)
best business coaching services for creatives
Each creative business coaching service in this list has been carefully selected because I've found it to be one of the most valuable resources for business leaders who are serious about maximizing their revenue potential.
Business Coaching Service Details
What will your business look like in 3 months? With all of the changes on Facebook lately, everyone's been a little scared to lose their followers, their reach, and engagement.
Rachel Miller created the Traffic Makers Membership to teach you how to leverage Facebook (algorithm and all!!)
Inside of the membership you'll find:
Strategy Sessions with Rachel

LIVE Hot Seats

Monthly Workrooms

A Vault of Guidebooks, Worksheets, Checklists, and Swipe Files

Coaches to support you
You'll learn how to engage your audience the right way (in line with any algorithm changes), how to go viral (yes, you still can!!), and how to leverage the tools that you have to get the biggest impact.
This means that you'll be able to grow your business, your blog, and your reach…all while playing by the new rules that they've created.
Maker's can totally change your business/blog/revenue/bottom line.
Meet Rachel:
"Hi, I'm Rachel. Mom to a vanful, coffee-chugging, extrovert. I have been building pages for over a decade, some into multi-millions in fans. I have used those audiences to promote my book (selling over 100,000 copies), appear on Good Morning America to discuss my viral video,
I have spoken to crowds in the thousands, and have built multiple websites each six-figure+ earning… but what I love the most is seeing others do the same thing."
Listen to our podcast episode to get a feel for Rachel and her business coaching style.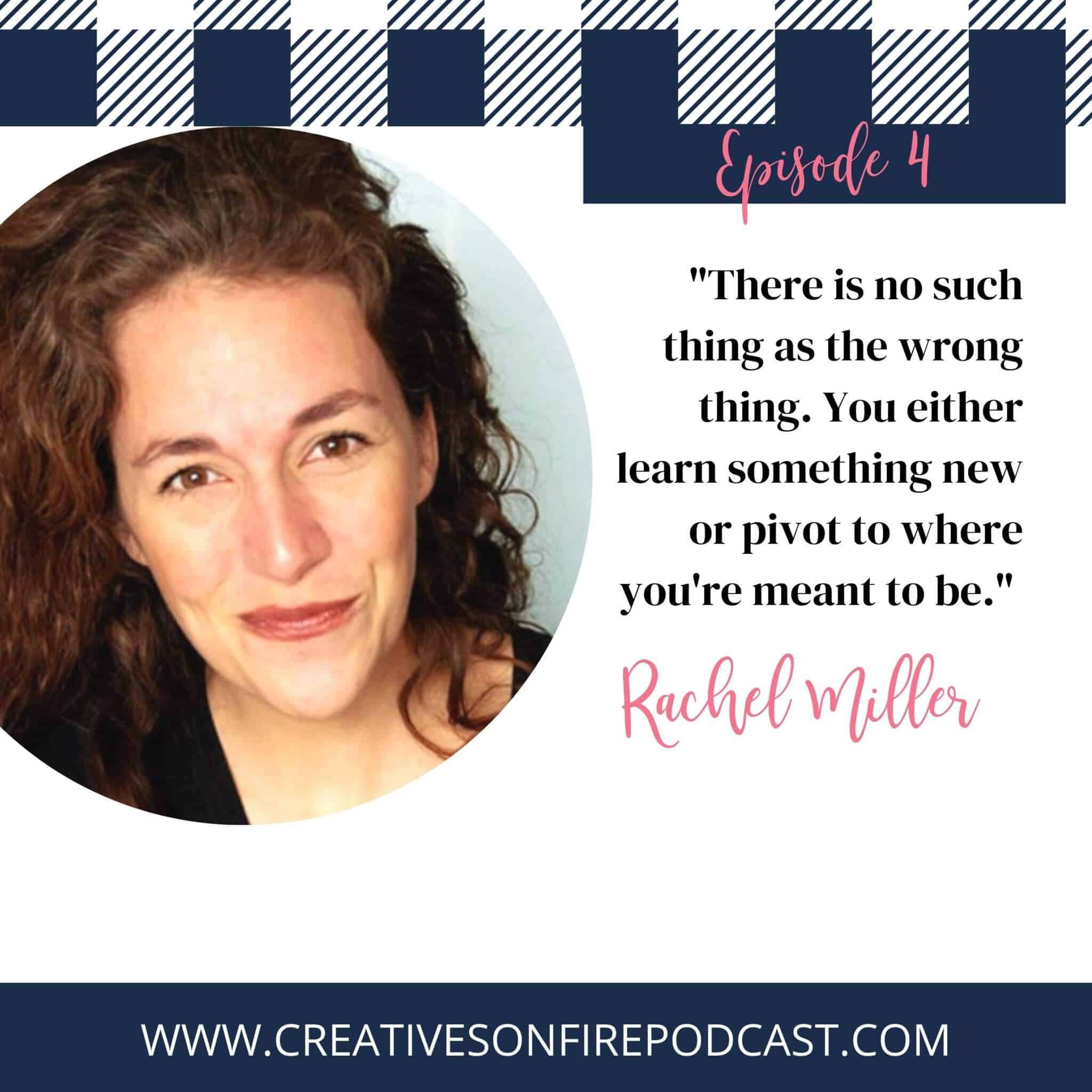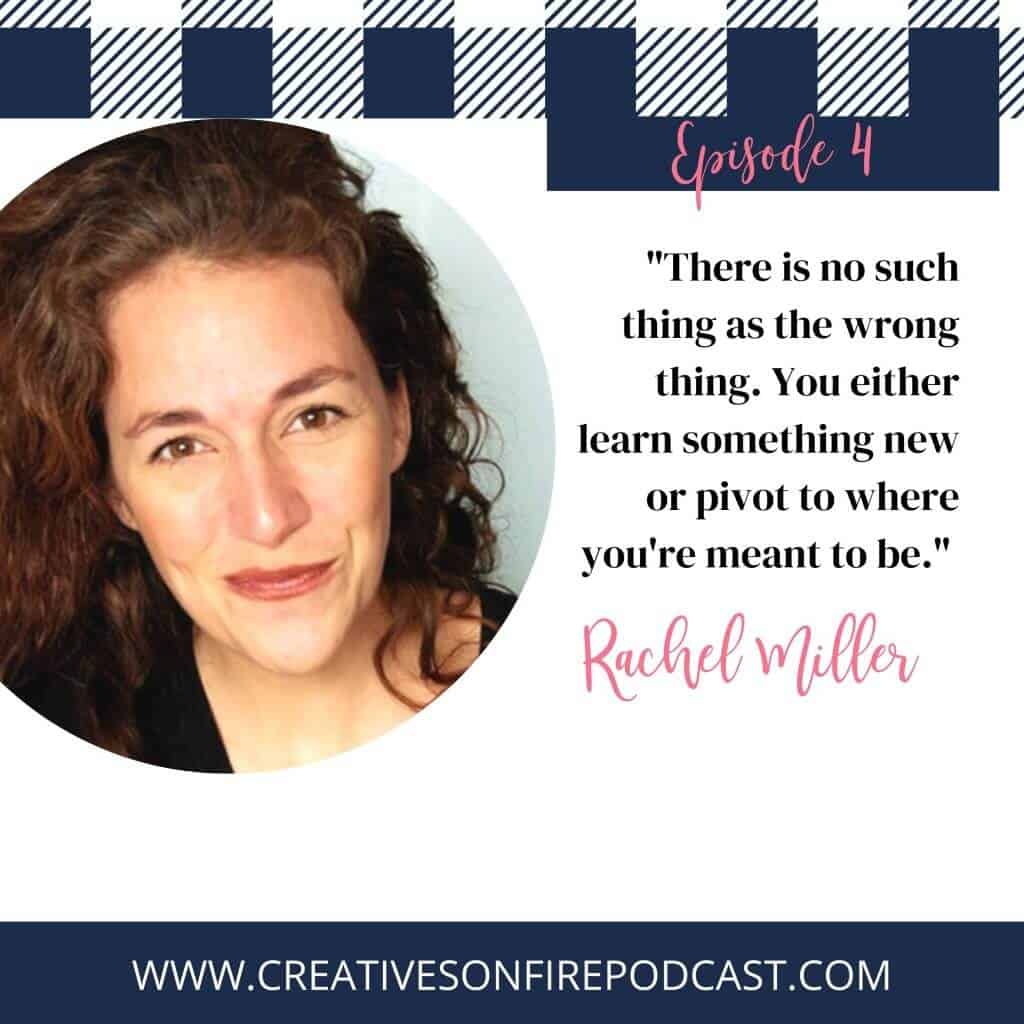 Episode 4: Rachel Miller
Business Coaching Service Details
The Creator's Nook Is a small and mighty group coaching platform by Sarina Correa which is heavily focused on building multiple streams of revenue with your creative passions.
Every month inside the Nook Sarina provides an Action Guide that is your road map to building, growing, and scaling your business. In addition to the Action Guide, there is a weekly Q&A session to get all those techie and non-techie things tackled!
There is also a weekly Power Hour session that will follow the action plan inside the monthly book. The session is designed to help you grow your social platforms, grow another stream of revenue or scale what you already have "Build, Grow, Scale".
Inside the Nook database, there are courses and masterclasses to accommodate your creative business journey. Don't know where to start, we have that covered every month inside the Action Book!!
Sarina & her team are committed to the success of the community.
About Sarina:
Sarina Correa, is a Creative Entrepreneur and Business Mentor. She has built and sold 5 creative businesses and 2 brands over the past 22 years and has been a financial coach and planner for one of the largest custodians in the world for over 20 years.
In 2014, she discovered that her passion was truly mentoring other creatives and local business owners, teaching them how to take their passion and skills and turn it into multiple streams of revenue through passive income sources and memberships.
She has had the pleasure of working one on one with some of the most influential creatives in the industry. To date, she has created over 40 tutorials, 5 monetized Facebook groups, 4 membership platforms, and 2 signature courses (Passion to Profit and Golden Triangle of Online Sales).
She knows what it takes to build, launch and scale a product and service-based business and how to monetize your social following and build strong and powerful communities no matter how big or small.
Listen to our podcast episode to get a feel for Sarina and her business coaching style.
Business Coaching Service Details
What's Included in the Inner Circle Business Coaching Membership?
The content ideas, templates, and post copy in The Playbook are worth the cost of the entire membership. This is all the inspiration you will need each month to produce quality, engaging content.
Every month, you receive the most up-to-date information on the social media platforms…changes in the algorithm, trends that are really working, new features to try out, and more.
Each month there is a masterclass on a specific topic…anything from SEO to a deep dive into Facebook or ads or opt-ins. These targeted training sessions are truly game-changers!
There are a few different formats (including a LIVE session) for Q&A time and you will love them all! The bottom line is there are many opportunities to get your questions answered and learn from the questions of others.
Come find your people! This place is full of like-minded business owners just like you! Finding people who are in a similar situation and can help and encourage you is key as an entrepreneur and they are waiting to meet you!
This group will give you the tools, strategy, and accountability you need to take your biz to the next level along with the support of an amazing community.
From Jennifer:
"What started as a desire to help pull my family out of financial desperation became a calling to help other women find the courage to do the same.
I stand steadfast in the idea of using my business as a way to serve God and my family. My goal is to use the tools so readily available—social media, email, the Internet—as the way to make this happen. I know getting unstuck, pushing through the overwhelm, and doing things in spite of fear are key in growing any business.
Today I am able to use my social media following of 500K people, my podcast, The Jennifer Allwood Show, with more than 2M downloads, this coaching group with thousands of members, and my #1 best selling book, Fear is Not the Boss of You, to help other women do for their businesses what I have done in mine."
Listen to our podcast episode to get a feel for Jennifer and her business coaching style.
Business Coaching Service Details
What do you get with Brooke's Creative Circle Coaching Service?
Smaller group setting with Brooke
Weekly Q & A session with Brooke to ask YOUR questions specifically!
Training on topics that are relevant and timely for growth in the online space!
Actionable steps to take in YOUR business for maximum growth and community building!
Tips and tricks that save you TIME and money!
Business networking, which you will find is EXTREMELY important in the online space!
Weekly motivation to encourage and uplift and keep you encouraged on your journey!
Re-Fabbed Boutique coupon code for all members! and much more… it is TRULY invaluable!
From Brooke:
"6 years ago, I started my own business. I did not have a single clue what I was doing, but I knew that the first step to being successful was STARTING, so I did!
Throughout the past 6 years, I have learned so many things about business, life, finding yourself, and staying true to your dreams and yourself throughout the process.
I have spent countless hours (and dollars) learning all I could so that I could one day help others achieve their dreams with their own business.
I have grown my social media followings to WELL OVER a million followers total, have grown my blog to 1 MILLION + pageviews/month, and have grown my passion into a successful multi-million dollar business online!
I CAN help you too!
You have to invest in yourself and in your business to get to the place you want to be! Dreams don't work unless you do! Let me help you get there!"
Listen to our podcast episode to get a feel for Brooke and her business coaching style.
The Makers University with Damon Oates
Business Coaching Service Details
What is inside the Maker's University Business Coaching Program?
Videos
Detailed step-by-step videos sharing our screen to help you walk through the process of building and marketing your online business.
We offer live Q&A support multiple times a week in the Facebook community. Monday 10 am, Tuesday 10 am, and Wednesday at 7 pm.
We offer PDF worksheets for guided course material and we offer templates from various resources for your use.
We share our favorite apps and tools that help our business run smoothly and efficiently.
Access to The ChaChing Blueprint Course
The ChaChing Blue Print covers the big picture when it comes to e-commerce and provides you with the basic knowledge that you need to run a successful e-commerce store.
Covers getting your business set up correctly, The basics of Facebook business, The Basics of Etsy, The Basics of email collection/marketing, and your first Facebook Ad.
Bonus Content inside the Coaching Service Program Includes:
SEO Keyword Lists
Lists for each major Holiday / Season that you can use to help get your product, service, blog, or post found online.
Guest Instructors
Damon's Peers come in and provide knowledge and training on areas of their expertise.
Templates
There are several PDFs, Planners, and documents that you can use to help manage your time and business.
About Damon:
Damon is one of the few instructors to specialize in both e-commerce and content-based businesses. He built his first five-figure business at 17.
He has built a few e-commerce based businesses – one five-figure, one six-figure, and one seven-figure business. He built a seven-figure consulting company right out of college and he has now built a seven-figure sustainable content-based business in less than a year.
He has taught thousands of other craftpreneurs how to implement the same business strategy. Students have hit six-figure businesses and one student is on trend to reach a seven-figure e-commerce business.
The Success Path for Wreath Makers with Lori Jacobs
Business Coaching Service Details
What's included in this Business Coaching Service Membership?
Business Training Video Library –

Learn everything you need to grow your handmade business, become a better maker and expand your skill-set with two large video libraries. Receive business tips and info designed specifically for handmade businesses in the Success Path library. Plus, gain insights to become a better maker and learn new skills in the Design Therapy Group. Plus, each library is updated weekly with new training and information so you can keep learning!
Hot Seat Sessions – Learn one-on-one with me as I bring you into the "hot seat" and make suggestions on your designs and answer business questions in a live Zoom call.
New Training Every Week – Each week we cover different business topics like setting up your business, tax guidance, growing your social media, email lists, Etsy, Facebook ads, and more.
Stay in the "Know" – I keep up with what's trending in the industry so you don't have to. I'll let you know when I see certain trends coming in or leaving.
Vendors Lists and Tools – Exclusive access to a long list of vendors, including wholesale and retail vendors, as well as the tools of the trade and where to purchase them.
Craft Business Advice – You'll get tips on how to source and choose materials, prices your products and grow your business online and offline.
Two Exclusive Communities –

Join two exclusive communities of other makers! You'll have access to both the Success Path Facebook group which is full of other handmade business owners and my Design Therapy Group full of other handmade designers looking to grow in their skills.
Creative Strategies with Ashley Raetz
Business Coaching Service Details
What's included in this Business Coaching Service Membership?
Helping Creative Business Entrepreneurs find what works! Create your mindset, Create your brand, Create your Business and Inspire Your World.
The only way into this coaching membership is through an amazing course that Ashley has put together called The Creative CodeBook.
The course is designed to help increase business by identifying ideal customers, using organic social media methods, developing business strategies, and learning less complicated methods of keyword research. The Creative Codebook is an all-in-one course, providing a hand-holding path that walks students through the steps to build a business with in-depth training and gives them the tools to get closer to their goals.
We have made the Codebook Course a full 7-week immersive experience with what's needed to help businesses improve including modules on perfecting the client avatar, optimizing social media presence, marketing strategies, and the basics of SEO and keyword research.
In addition to weekly group coaching calls that will cover the questions that matter to both beginners and more advanced business owners, course students also have access to the complete course modules filled with bite-sized video training and workbooks inside the course. And students get access to an exclusive community for 7 weeks full of business owners on the same path.
From Ashley:
"I started painting signs 9 years ago from my tiny kitchen table to make extra money to pay for daycare. And now, I own multiple successful businesses with employees and retired my husband from his job as a diesel mechanic to run the business with me. I've built a handmade empire by selling on social media, other platforms, and my own website. I also host in-person events and in my own shop.
But it started from my kitchen table!
In the beginning, I had to struggle to try to figure out how to make social media and online strategies work for me. And I am the least techy person anyone will ever meet. I spent hours at a computer trying to figure out where the dang buttons moved, or how to do something that should have been simple. I've been the one cutting the wood, painting the wood, marketing the wood sign, selling it, packaging it, shipping it off."
PODCAST EPISODE COMING SOON!
Which one is the best business coaching service for you?
If you're like me, you need to simply try them all on for size. Finding the right fit for your business and personality is all about exploring your options.
I hope this list is a helpful tool in your quest for the best business coaches for your creative business! I have had personal experience with each of them and find them all to be super powerful resources for growing a successful creative business.
I'd love for you to comment below with any praises you may have from personal experience for each of these fabulous business coaches!
Why should I listen to you?
I've seen too many business owners get stuck in the hamster wheel of creating the same old content expecting new and different results.
They show up each day feeling frustrated, stuck, and far less productive than they truly could be. And let's not forget about the money. I always see talented entrepreneurs short-changing themselves because their businesses aren't performing at full capacity.
That's why I decided to share these highly skilled business coaches with you as a resource. When you're looking for help with your small business or creative agency, one of the best places to invest your resources is in a top-notch business coach.
seriously though…
I know what you're thinking: "This sounds great, but I'm not sure why I should listen to you." Fair enough. I've personally experienced all of these business coaching services for myself!
With that said, this list isn't just coming from some rando on the internet. It's coming from someone who's also spent years helping other small business owners and creative entrepreneurs like yourself make more money, lift their productivity levels, and grow their business followings to six figures plus.
I'd love for you to subscribe to my podcast for creative business owners just like yourself! Each week we learn together from a new success story.
CREATIVES ON FIRE PODCAST IS HERE
Other questions about business coaching services
Is a business coach worth it?
If you're looking to invest in the growth of your creative business, then this is one of the best investments you can make.
The trick with business coaching though isn't just finding any business coach; it's finding one that will speak directly into your unique challenges and help you find the solution.
How much should you spend on a business coach?
This can be a tricky question as it really depends on your budget and what you're looking to get out of the coaching.
If you're serious about growing a full-time income with your creative business, I believe a budget of $100 a month is a great place to start. It allows you to try out several business coaching services at one time and quickly find your 'fit'.
Each month re-evaluate the business coaching services you are utilizing and drop or add as needed based on results.
What does a good business coach do?
A good creative business coach helps business owners gain clarity, solidify the vision for their business and hold them accountable to their goals.
what is the difference between a mentor and a business coach?
The biggest difference is that a mentor focuses on advising, while a coach will assist in goal planning and accountability so that success can be achieved.
other creative business articles you may like